Boutique hotel Light House Jurmala
is located directly on the shore of the Riga Gulf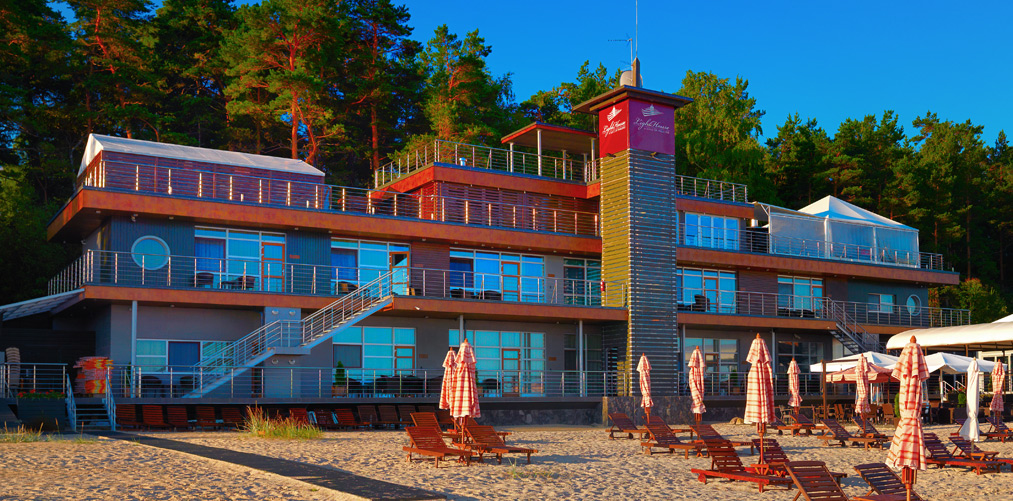 The architecture of the hotel edifice is a kind of reminiscence of a navigating ship, and not only outside, but inside, as well as. Everything is conventionalized to look like a real sailing ship: there is a huge fireplace in the form of a ship furnace in the hall, there are deck lamps, beams and rigging, iron doors with portholes and a huge aquarium with exotic inhabitants of the deep sea, is adding to the atmosphere of a real voyage.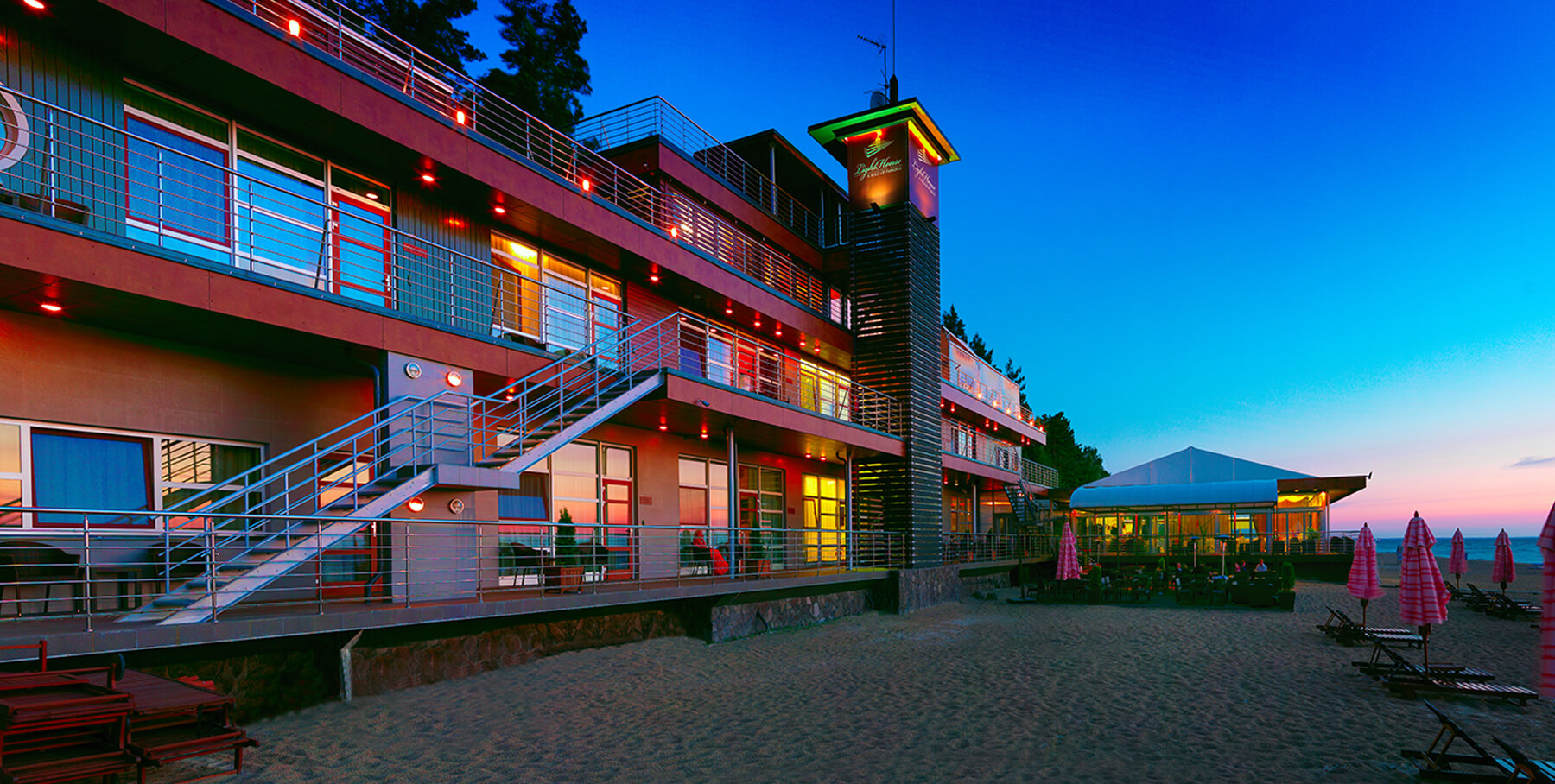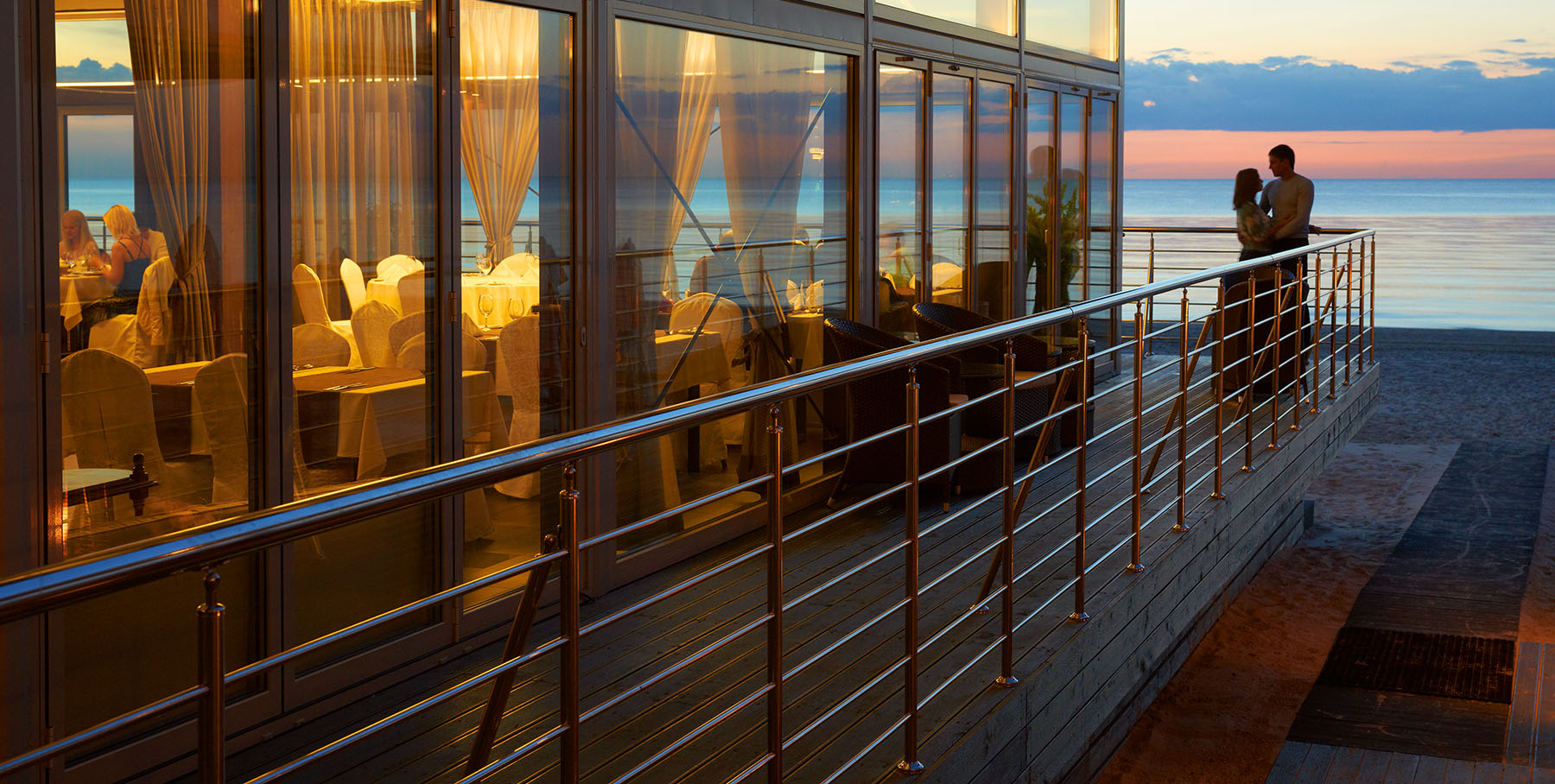 The concept of the hotel expressed in the motto "The whole world in one hotel", which reflects the original design of each of the eleven rooms - a tiny corner of a particular country. The image, culture and national spirit of each country has been expressed in interior design with astonishing precision and high degree of authenticity. Each particular interior seems to be virtually filled with flavor, taste and touch of the country, which it is meant to "represent". All guestrooms are equipped with kitchen, elegant furnishings and offer the higher level of comfort. The bathrooms exemplifies the state-of-the-art technology and style.

The panoramic windows of all eleven guestrooms open the view of the sea, and you can enjoy the marine landscape without getting up from your bed. Here is the small slice of paradise at the edge of the world!
Specials offers
B&B | H&B | F&B 01.03.2021 - 30.04.2021
Our principles and values
L
LOYALTY
We are always trustworthy treat our guests, employees and partners.
I
IMPECCABILITY
We follow the highest standards quality of guest service
G
Guest
We appreciate each of our guest.
H
HOSPITALITY
We offer a personalized service and an ideal combination of privacy, hospitality and warmth.
T
TEAMWORK
We work as a team.
H
HARD-WORKING
We work at any time of the year until the last guest.
O
OPERATIVENESS
We work quickly.
U
UNUSUAL
We strive to create a unique atmosphere for guests and an unforgettable stay.
S
SAFETY
We are always responsible for our actions and ensure reliability.
E
ENTHUSIASM
We aim to motivate employees through effective training, career and personal development, and encouraging individuality and initiative.
Services
Room cleaning, including towels, changed twice daily and linen provided every day
Laundry service
Private beach with sun beds, umbrella sunshades and beach towels – free of charge
Public WC and showers on the ground floor, two cranes for leg washing on the beach
Open -air terrace for tanning on the second floor
Business services
WIFI free of charge in all hotel
Free parking near hotel area
Underground parking in the hotel
Car rental
Bicycle rental
Cultural and recreational activities locally available
Transfer services
Excursions
Limousine service
Delivery of tickets to opera, theatre performances and concerts
Catering and bar services
Conference and banqueting facilites
Weddings
24 hour room service for quests, ensuring fulfillment of every
Fascinating landscape of the Baltic Sea
Service staff will be pleased to provide services with exceptional privacy, allowing quests to enjoy full relaxation and true hospitality. Communication can be provided in Latvian, Russian and English at quest's choice.
About Jurmala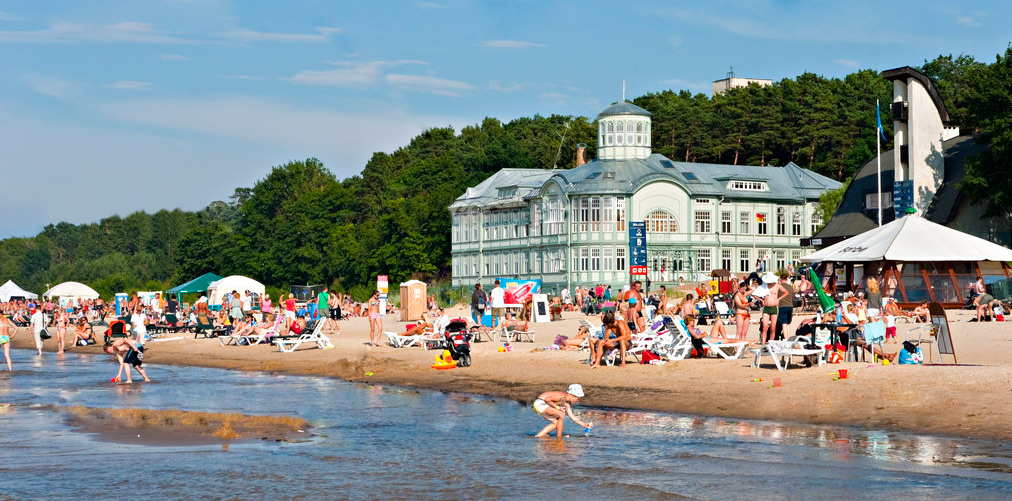 Jurmala - the largest resort city in the Baltic States and the second largest city in Latvia. The attraction of Jurmala gives almost 33 km long white sand beach, theBaltic sea, extensive pine forests, mild climate, healthy air, curative mud and mineral water.

Jurmala consists of 14 small residential areas - Priedaine, Lielupe, Bulduri, Dzintari, Majori, Dubulti, Jaundubulti, Pumpuri, Melluži, Asari, Vaivari, Sloka, Ķemeri, Jaunķemeri.

JURMALA SIGHTSEEINGS
Square with fountain opposite train station Majori
Dzintari forest park and sightseeing
Botanical garden and summer house of Kristaps Morbergs
Jūrmala's House of Artists
Majori Holy Mother's Heart's Rome Catholic Church